Summer is the time for barbecues, outdoor concerts, and festivals. But what happens when you need the power to keep your party going? That's where the Honda EU2200i Portable Inverter Generator comes in.
This lightweight generator easily fits in a car trunk or camper and can provide up to 2200 watts of power.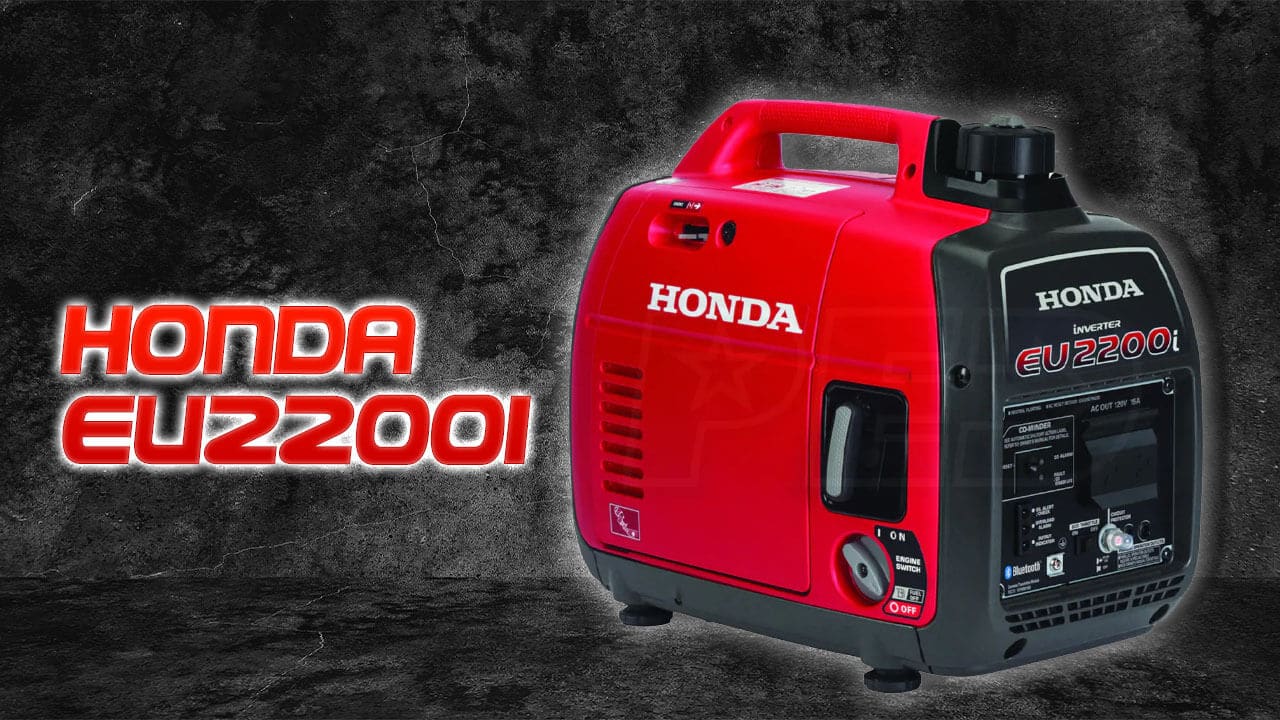 So whether you're powering a small TV or keeping the refrigerator running, the Honda EU2200i has you covered. Plus, it's super quiet, so you don't have to worry about disturbing your neighbours. Ready to get your party started?
The Honda EU2200i is probably the best generator out there. If you need a generator that provides clean power, this is it! In This post, you can read all the information you need to know about this fantastic product.
What is a portable generator, and how does it work?
It has an input, which usually comes in fuel or fire, and an output, which provides energy to whatever it's powering. Most generators are large machines that require just as much space to function correctly. Portable generators give users freedom by making these devices small enough to be carried around yet still powerful enough to produce all kinds of power needs when needed most!
How does portable generator work?
The Honda EU2200i uses inverter technology to run sensitive electronic equipment without issues! It makes this generator perfect for camping trips where the only appliance your might want running during those cool nights is some fan or light source.
The EU2200i also has an Oil Alert® system that shuts the engine off when it runs low on oil, so you don't have to worry about your generator seizing up or causing any other damage.
What are some benefits of owning a Honda EU2200i portable inverter generator?
The Honda EU2200i is incredibly quiet and emits just 59 decibels of noise! It is perfect for people who like to camp near areas where they need to be as stealthy as possible or those who live in neighbourhoods with strict sound ordinances.
The inverter technology also means that this generator can handle sensitive electronics without any problems, making it perfect for powering your home during an emergency power outage.
And finally, the EU2200i has a fuel capacity of one gallon, which means you can get up to 12 hours on a single tank- perfect for long camping trips or emergency power outages.
What makes this generator stand out from similar models?
The Honda EU2200i is incredibly lightweight and compact! It only weighs 46.5 pounds making it easy to store in an RV cupboard, mount atop your camper shell with the included wheel kit or even carry around while hiking if that's how you like to travel.
The inverter technology also gives users flexibility when powering electronic appliances, so they don't have any issues. Finally, because the engine runs on gasoline instead of diesel, this generator doesn't require much maintenance. Fill it up with gasoline, check the oil level now and then, and you're good to go!
What are some of the included accessories?
It also has an AC adapter to power your home during an emergency outage efficiently. The generator has a 12V DC outlet for charging batteries or running small appliances.
Honda generators have been around for years and are known as some of the best in the business. With its inverter technology, this Honda generator gives users enough power to keep them going all day long!
How to use your Honda EU2200i Portable Inverter Generator?
You can use Honda EU2200i Portable Inverter Generator in many ways. It has a 12V DC outlet, letting you charge your car battery if needed. The generator also has two 120V AC outlets to power laptops or other appliances that require high-voltage input.
This portable inverter generator is extremely quiet and easy to carry around, weighing only 50 lbs. Another feature of this model is the six different speeds for better comfort. The digital display clearly shows all the current settings, including how long it will take until there's no gas left in the tank!
You can use the Honda EU2200i Portable Inverter Generator for all different purposes. It's straightforward to start with an electric starter or manual push-start, and it can run on unleaded gasoline. You will get about nine hours of runtime at 50% load capacity with a full gas tank!
The noise level is 66 decibels when running at one-quarter load, making this generator perfect if you need some quiet time in your house – sleeping or working without noise pollution. It means even though it is super soft, you still have more than enough power thanks to the new Eco-Throttle System that manages RPM according to demand optimizing fuel economy by up to 20%. You can also use this generator for charging 12-volt batteries.
The Honda EU2200i Portable Inverter Generator is CARB Compliant and comes with a three-year residential warranty, making it an excellent investment for years to come. It's the perfect size to take with you when camping, tailgating, or on any other outdoor adventure! You will never have reason to worry about being left in the dark again.
Pros and cons
Pros:
It has many features, is quiet, and is easy to carry around.
Compact and easy to store, great for various purposes.
Cons:
An expensive option needs more time to refuel after running out of gas.
When it comes down to buying a generator, I would always recommend getting one that runs on gasoline or diesel. There are some electric generators available.
The Honda EU2200i Portable Inverter Generator is our top pick because it has all the great qualities you expect from an engine-powered unit while still being compact enough not to take up too much space! You can use this inverter generator at home during brownouts, camping trips, or when you might need some extra power.
If you're looking for a dependable portable generator, then the Honda EU2200i Portable Inverter Generator is worth considering! It's perfect for small projects or emergencies where you need extra power without all the noise.
Plus, with its extended warranty, it's sure to last you for years to come.
Conclusion
Honda EU2200i is a lightweight, portable generator that offers the convenience of being used in your home or outside. With an increase from 2200 watts to 2400 watts and up to 8 hours on Eco-Throttle mode, this generator will power about anything you need. It has a tranquil noise level of 54 decibels, which does not disturb anyone while using it indoors.
This inverter generator comes with a few-year warranty, so if something goes wrong within those four years, you can get it repaired without any extra cost out of pocket. I highly recommend the Honda EU2200i Portable Inverter Generator as one of the best options for buying a new inverter.
We review Best Camping Generators if you think Honda EU2200i is not the best fit for you.