Do you need a robot cleaner to help you relax? Check out the Trifo with 1080P night vision. This robot vacuum is perfect for busy families or people who have pets. It has powerful suction to remove dirt and debris from your floors, and it comes with a built-in camera to help you see what's happening when you're not at home.
The Trifo robot vacuum is a clever little helper that can do the job for you! It's perfect for homes with pets, children, allergies, and people who don't enjoy vacuuming.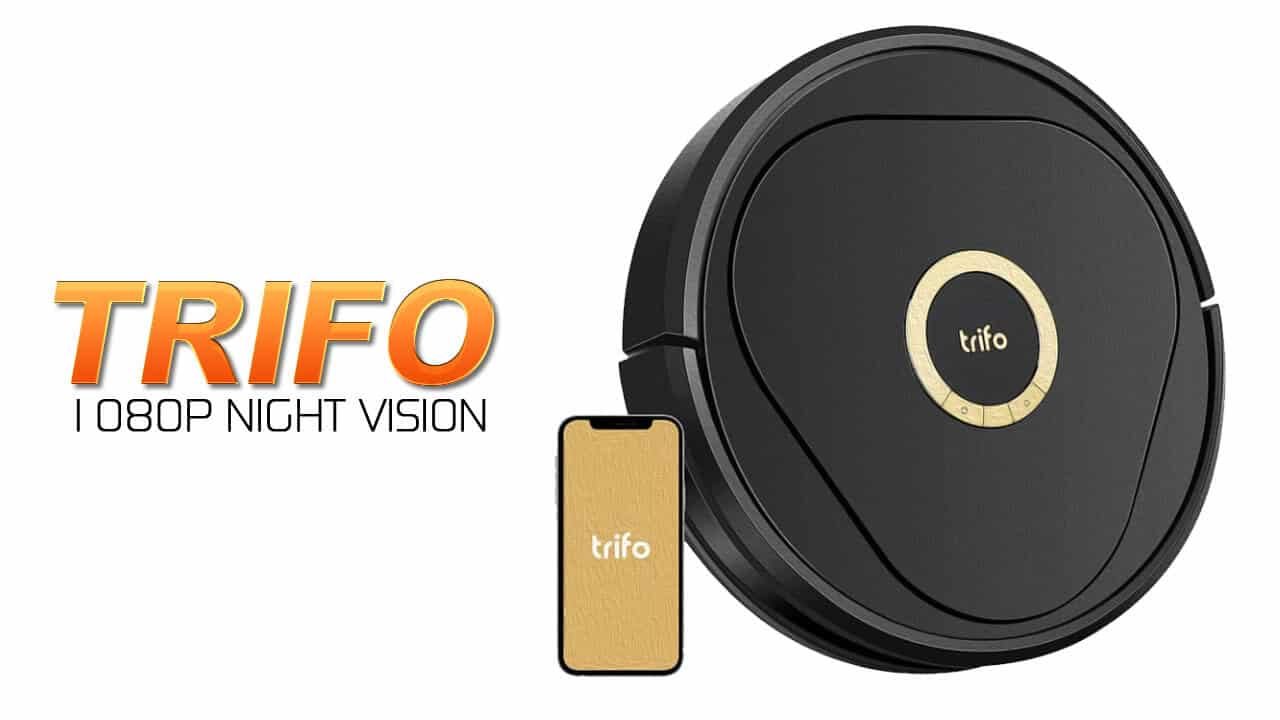 Trifo has 1080P night vision so that it can clean in complete darkness. You no need to worry that your floor will be dirty again because this little guy will get it sparkling clean every day without any work on your part!
It even has an app so you can control it from anywhere in the world- no matter where you live or in what time zone. With Trifo, there's no need to worry about cleaning up after yourself again!
How To Use Trifo
Trifo is a water tank-type robot vacuum cleaner with good sealing performance. It adopts the worlds-first suction system with low noise and high power to achieve thorough wet cleaning of the floor surface.
The product uses dual brush rolls, large-capacity batteries that can run for 120 minutes per full charge, intelligent navigation and mapping, and a 1080p HD camera with night vision to clean every corner of your home.
The robot vacuum also comes equipped with Alexa voice control, so you can start, stop, or pause your cleaning job by using your voice. You can also ask Alexa to update you on your Trifo robot vacuum status.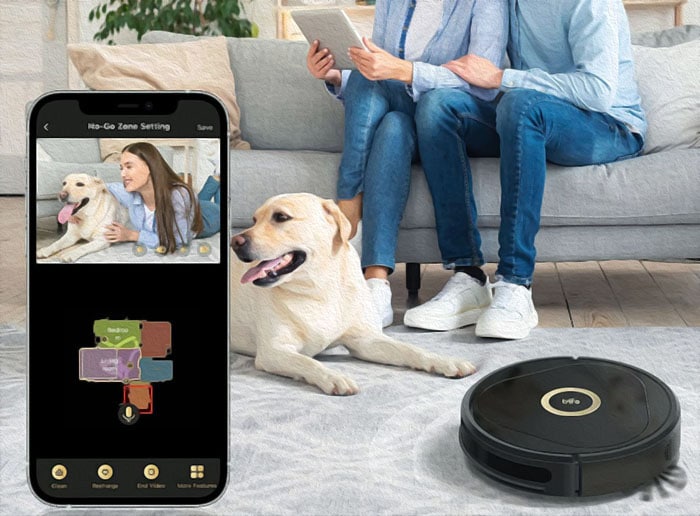 To use Trifo, first, make sure that its battery is full. Once it is ready, press the power button on the top of the unit to turn it on. The robot will then begin its pre-cleaning routine, which includes scanning the room to create a map and identify any obstacles in its path.
Once the pre-cleaning routine is complete, Trifo will begin to clean. Using your phone, you can steer the robot or tell it where you want it to go with your voice (available via Amazon Alexa).
Trifo is compatible with Amazon Echo, Google Home, and IFTTT. Download one of these apps on your smartphone or tablet to control this aspect of the robot vacuum cleaner.
Who Makes Trifo Robot Vacuums
A company makes the Trifo robot vacuum of the same name. It's a Chinese manufacturer produces high-quality robotic vacuums and other smart home appliances. The company has been working since 2014, quickly becoming one of the leading brands in its category. Today, Trifo products are available in over 60 countries worldwide.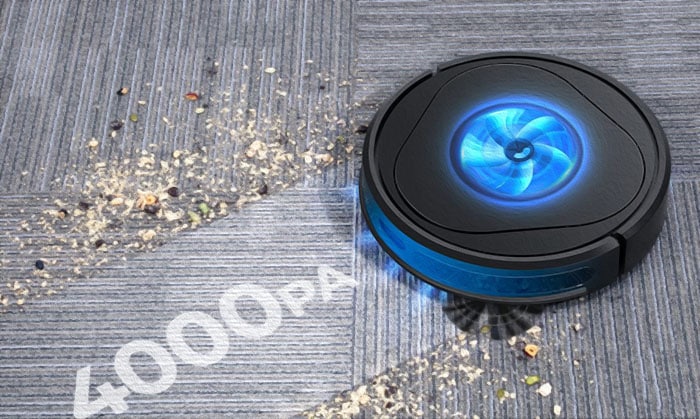 What Makes The Trifo Robot Vacuum Special
One thing that sets the Trifo apart from other robot vacuums is its 1080P night vision system. It allows users to clean their floors in complete darkness without turning on any lights. Other features include automatic self-charging, a dustbin capacity of 0.07L, and a noise level of fewer than 55 decibels. Moreover, the Trifo is compatible with multiple innovative home systems, including Amazon Alexa.
Is Trifo a Chinese Company
Yes, Trifo is a Chinese company. However, this product does not use any parts from China, and it should be of good quality because the factory has been in business for over 20 years.
The Different Ways Trifo Can Use
There are many different ways Trifo can use. The most popular applications include home security, pet monitoring, and baby monitoring. But that's just the beginning! Trifo can also use for commercial purposes such as retail store security or restaurant surveillance. And with its 1080P night vision capabilities, Trifo is perfect for any environment – day or night!
What Are Some of The Unique Features of Trifo
Some of the unique features of Trifo include its 360-degree rotating camera, two-way audio communication, and infrared LED lights for clear night vision. Plus, with built-in Wi-Fi and Bluetooth connectivity, Trifo is easy to set up and control from anywhere.
Trifio 360-degree rotating camera allows you to see more angles and record the video simultaneously, giving you a complete view of your surroundings! The two-way audio communication system lets you hear what's happening in real-time while remotely controlling Trifo with an aIts; its infrared LED lights allow for clear night vision—even in the dark! And finally, it features built-in Wi-Fi and Bluetooth connectivity so that you can connect it to most devices wirelessly.
Everything You Need To Get Started
When you purchase Trifo, here's what you'll get:
Trifo Robot Vacuum (includes an extra filter cartridge to extend the robot vacuum functionality)
Charging dock
Power cord
USB-to-MicroUSB cable for Android devices
Quick start guide.
What Do I Need Before Purchasing
Before starting your purchase of Trifo through Kickstarter today, make sure that you have a compatible device by checking out the list below:
As long as your phone has an iOS 11+ or Android OS v.17+, it should work perfectly with Trifo
What Are The Different Ways Trifo Can Use
Trifo has many uses, including home security, pet monitoring, and baby monitoring. It is also great for commercial use, such as retail store security or restaurant surveillance. With its 1080P night vision capabilities, Trifo is perfect for any environment – day or night!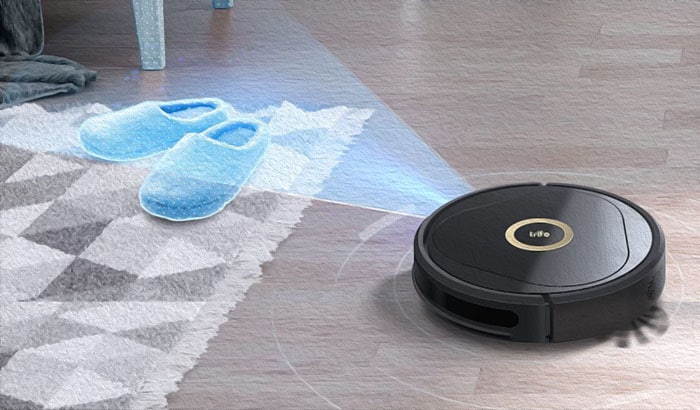 How Do I Set Up My Trifo Robot Vacuum
Setting up your robot vacuum be easier with our quick start guide. Download the app, connect to Wi-Fi using your phone's settings menu, and place it in the charging dock when you're not using it, and that's all there is to it! You will have a fully functional robot vacuum in no time!
Your home will never be cleaner with this Trifo robot vacuum. It has to sweep and mop your floors while you're away, so it can clean the messes that get left behind by pets or kids without any effort on your part! Plus, there are no cords for plugging in a traditional vacuum – charge up its battery and go about your day knowing everything will be spotless when you come home. With 1080P night vision cameras, this is one of the most advanced robotic vacuums out there right now.